Main content starts here, tab to start navigating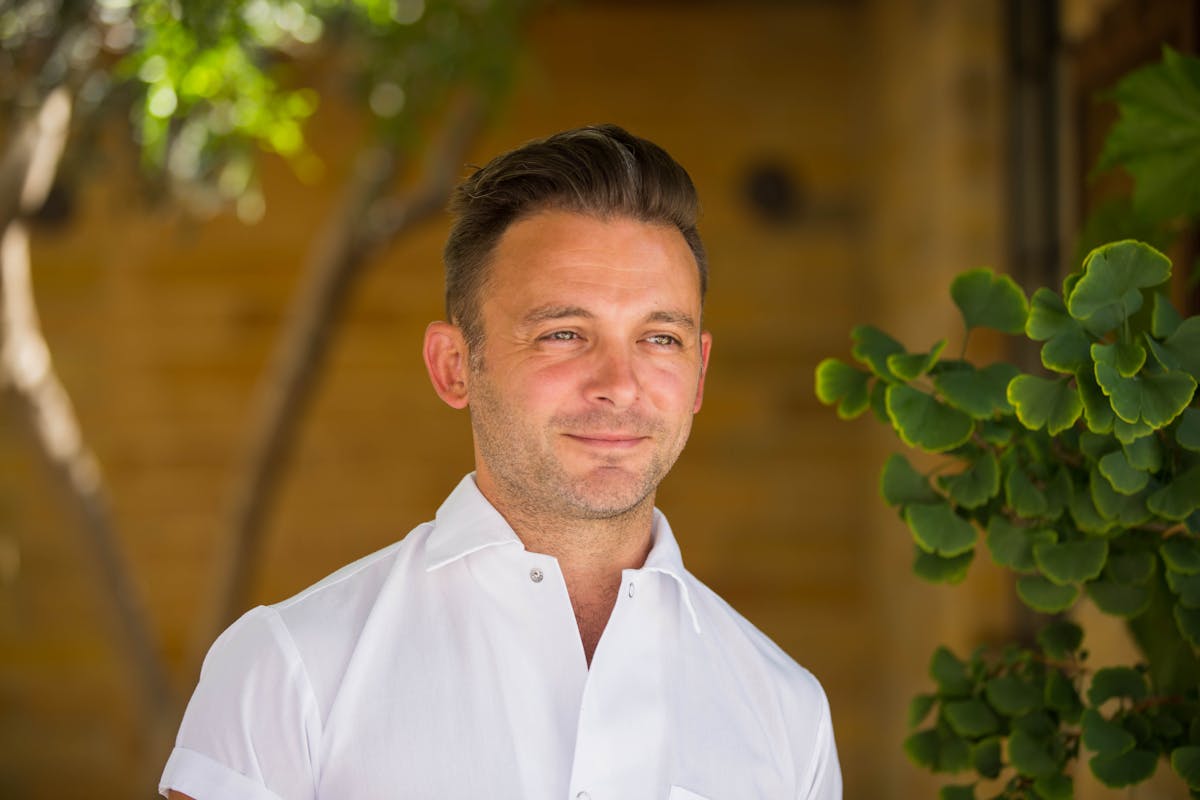 Nicholas Romero
Chef de Cuisine
As Chef de Cuisine, Nicholas Romero leads the Manresa kitchen alongside Chef and Proprietor David Kinch. "My goal is to try and exceed the already high expectations of our guests," Romero says. "Whether it's a regular guest or someone who has been dying to try Manresa, I'm always looking for ways to impress them, to continuously evolve the experience." In bringing fresh ideas to the table, he plays on the similarities and differences between his and Kinch's culinary approaches to conceptualize, enhance, and experiment with new hyper-local ingredients. While Romero applies techniques gleaned from some of the country's most revered talents, he considers the distinct dynamics of his own team members in providing a tailored mentoring presence. "Every cook has their own way of learning, their own motivations, so you can't teach everyone in the same manner," he explains.
Born in Scott, LA, to exceptional home cooks, Romero found inspiration from his parents and TV cooking shows. In the kitchen by age 5, he joined the friendly competition of Southern family cooking, in which every member strives to push the envelope at recurring holiday dinners. He worked in restaurants throughout high school and college, ultimately studying cooking at the Art Institute of Houston, completing his culinary degree in 2005.
Beginning in 2004, he served under iconic chef Jean Georges Vongerichten and his team at Bank, including chef Bryan Caswell, in a high-caliber French-Asian kitchen. Continuing to pursue wisdom from the nation's top chefs, Romero trekked to Chicago in 2007, joining Tru under three-Michelin-star chef Laurent Gras. One year later, he helped open Gras' L2O, working closely with chef Brad Kilgore.
The flourishing chef continued to build his skillset alongside accomplished culinarians, landing in 2009 as sous chef at Avenues, from chef Curtis Duffy. Two years on, Duffy created a new concept, Grace, and, while waiting for it to open, Romero lent his talents to opening Acadia restaurant and Maude's Liquor Bar. As chef de cuisine of Grace, Romero's culinary achievements earned the restaurant three Michelin stars. Then, after a four-month stint in Miami to help chef Brad Kilgore launch his latest concept, Alter, Romero returned to the Windy City. He then teamed up with chefs John and Karen Shields on the opening of Smyth, which went on to earn two Michelin stars.
In late 2017, Mitch Leinhard—a former colleague of Romero's at Grace—stepped down from his chef de cuisine post at Manresa, and recommended Romero for the job. Content in Chicago but pondering his next big move, Romero flew back and forth to Manresa to feel out the opportunity. Inspired by California's fresh local ingredients, proximity to wine country and influence, and beautiful weather—not to mention the culinary innovation and know-how of Chef David Kinch—he officially joined Manresa's culinary team in February 2018, and currently resides in nearby San Jose, CA.