Main content starts here, tab to start navigating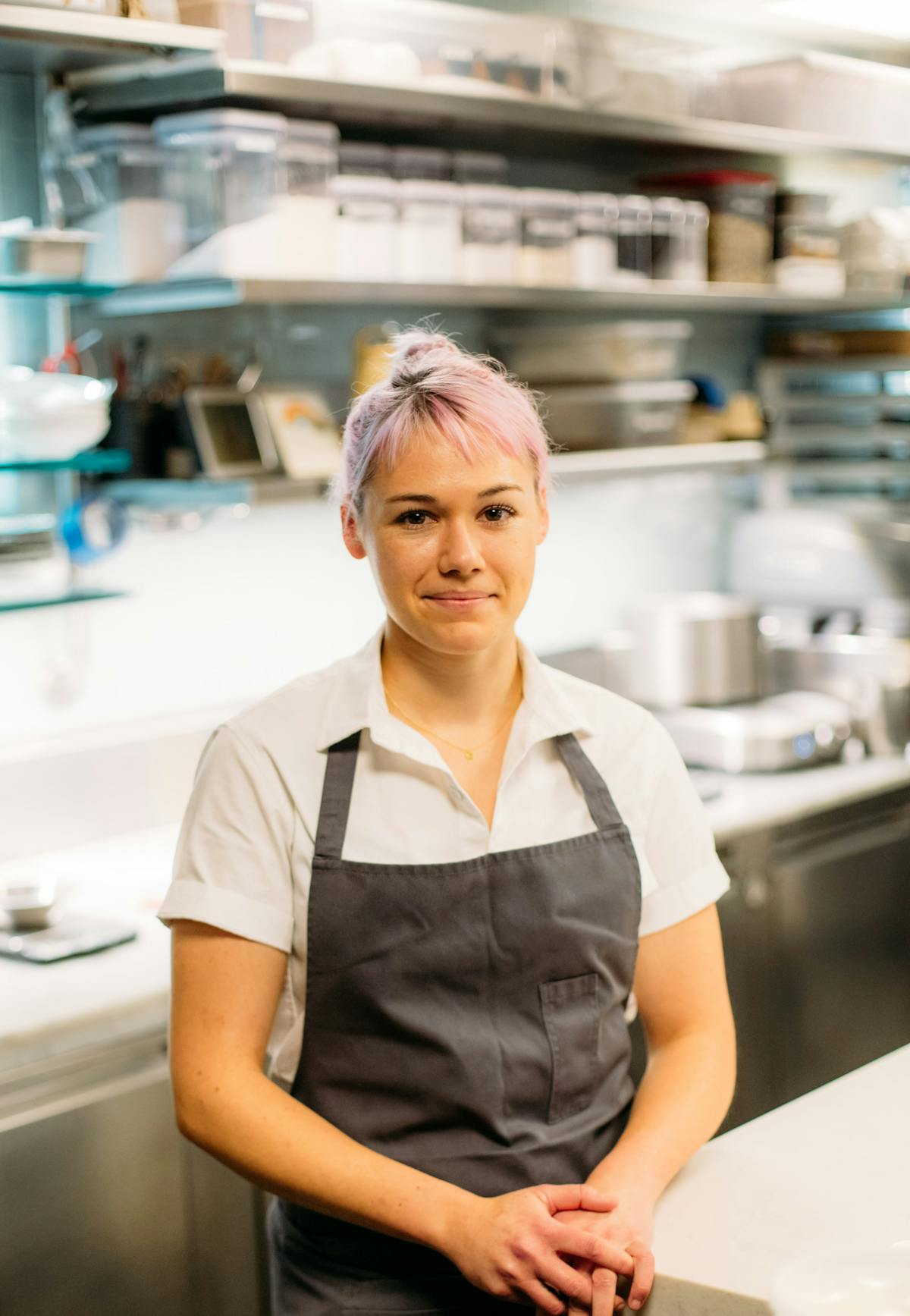 Courtney Moisant
Pastry Chef
Pastry Chef Courtney Moisant brings passion and dedication to Chef David Kinch's acclaimed Manresa—a three Michelin-starred restaurant nestled in the heart of Los Gatos, California. With each pastry creation, Moisant believes the foundation, as well as its potential, relies on quality ingredients. "Without depending on gimmicks or showmanship, the food and the core of what the restaurant stands for is truly on display," she says. "We rely on outstanding produce, highlight its best characteristics, and make something both beautiful and delicious."
Moisant's current role as pastry chef involves creating and executing desserts for Manresa's dessert program, as well as desserts for Chef Kinch's newest restaurant, Mentone. One of Moisant's specialties—and passion points—is chocolate. In addition to the bonbons presented to guests at the end of each Manresa meal, she conceptualizes and hosts Chocolate Pop-Ups to mark occasions like Valentine's Day and Mother's Day. Each pop-up features a new theme, dictating flavor varieties that make up the chocolate boxes.
"I would like for guests to feel that they have had something made especially for them, and that their memories of dining at Manresa are full of generosity, experiencing new flavors, and enjoying beautiful plates," she explains.
Growing up in the foothills of Los Angeles in La Crescenta, Moisant fell in love with baking at the age of 13. Inspired by James Beard award-winning Chef Sherry Yard—known for her stunning work at the iconic Spago in Beverly Hills—Moisant began to explore her hobby in a new professional manner. "I knew I really wanted to pursue pastry, and specifically in restaurants, when I was given a copy of one of Chef Sherry's books, 'Desserts by the Yard'—I thought 'I want to be her someday,'" she says.
Determined to acquire professional pastry skills, even at the young age of 16, Moisant relentlessly contacted Chef Sherry until she agreed to take on the aspiring pastry chef as an intern/commis at Spago. Gaining invaluable knowledge of the high-end culinary industry, Moisant participated in influential events such as Taste of Beverly Hills 90210, Meals on Wheels, and a charity event for the Special Olympics. In 2012, she pursued her culinary degree in pastry arts from the Culinary Institute of America in Saint Helena, CA—receiving the High Impact Leadership Scholarship as well as a scholarship for being a finalist in the National Honey Board Recipe Challenge.
Taking advantage of her school's training programs, Moisant worked as a bakeshop assistant, preparing food for CIA's events as well as a prep cook for the Bakery Café. After an externship at Chef Daniel Bouloud's famed Restaurant Daniel in New York City, she began her first post graduate job as a pastry prep cook at Cyrus, a fine dining restaurant in Healdsburg, CA. Moisant went back to NYC to work at Gotham Bar and Grill as a pastry cook and eventually became the pastry assistant at the acclaimed wd~50 under Chef Wylie Dufrense—further refining her pastry skills through complex molecular methods.
In 2014, Moisant won the StarChefs Vitamix Competition and returned to judge the competition the following year. Soon afterwards, she moved back to her home state of California to stage at Manresa, eventually joining the restaurant's talented pastry team as a full-time pastry assistant. Now as a pastry chef, Moisant consistently upholds Manresa's principles, especially when it comes to honoring the farm-to-table movement and learning as many new techniques as possible. In her free time, Moisant likes to read, especially the classics, listen to music on her record player, and go hiking in Santa Cruz.